Retrospect needs the following pieces of information to access your email account:
Email Address – your_email_address@icloud.com

User Name – your full name (for display purposes only)

Password – generated app-specific password

IMAP Server – imap.mail.me.com

IMAP Port – 993 (Mac only, Windows always set to 993)
For the password, you'll need to log into your iCloud account to generate an application-specific password. See Apple's article on "Using app-specific passwords". Note that to generate and use app-specific passwords, your Apple ID must be protected with two-factor authentication.
On Windows, select "Email Accounts" under "Volumes" and click "Properties" to add an email account.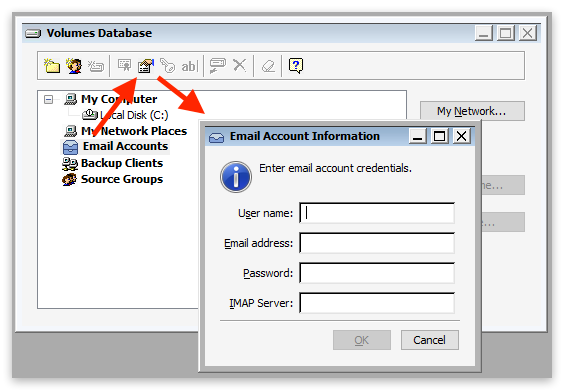 On Mac, select the plus button under "Sources" and then "Email" to add an email account.
If you receive "error 8256", please check your email address and password.
If you receive "error 8252", please check your IMAP server and port.
---