Cloud Backup - How to Set Up Dunkel Cloud Storage for Cloud Backup
Cloud Backup
---
Dunkel Cloud Storage is a cost-effective Germany-based cloud storage service for secure off-site data protection. Retrospect 11 for Windows and Retrospect 13 for Mac are certified for Dunkel Cloud Storage. Follow these step-by-step instructions for setting up a Dunkel Cloud Storage account, configuring a storage location (called a "bucket"), and creating a set of security credentials (an Access Key and a Secret Key, similar to a username and password).
---
Step-by-step Guide
---
Account Setup
Visit Dunkel Cloud Storage for Retrospect to contact Dunkel.

Dunkel will reach out to you shortly to set up an account.
---
Storage Setup
Now we will create a bucket that Retrospect can use to store backups. This can be done with any compatible software. This tutorial uses Cyberduck, an excellent and free cloud storage browser, available for Windows and Mac.
Download, install, and launch Cyberduck.

Click 'Open Connection' and select 'S3 (Amazon Simple Storage Service)'. Enter in 'dcs.dunkel.de' as the server, your supplied Access Key as the username, and your supplied Secret Key as the password.

Click 'Action' and select 'New Folder'. Type in a name for it. This will be the name of your bucket for Retrospect to use.
---
Information for Retrospect
Retrospect needs three pieces of information to access Dunkel Cloud Storage:
Path – dcs.dunkel.de/bucket

Access Key – Use the Access Key from above.

Secret Key – Use the Secret Key from above.
---
Aggiungere il Cloud Storage
L'aggiunta del cloud storage come destinazione è semplice. Retrospect ha un nuovo tipo di set chiamato "Cloud". Crea un nuovo set di backup/supporti e seleziona "Cloud" come tipo.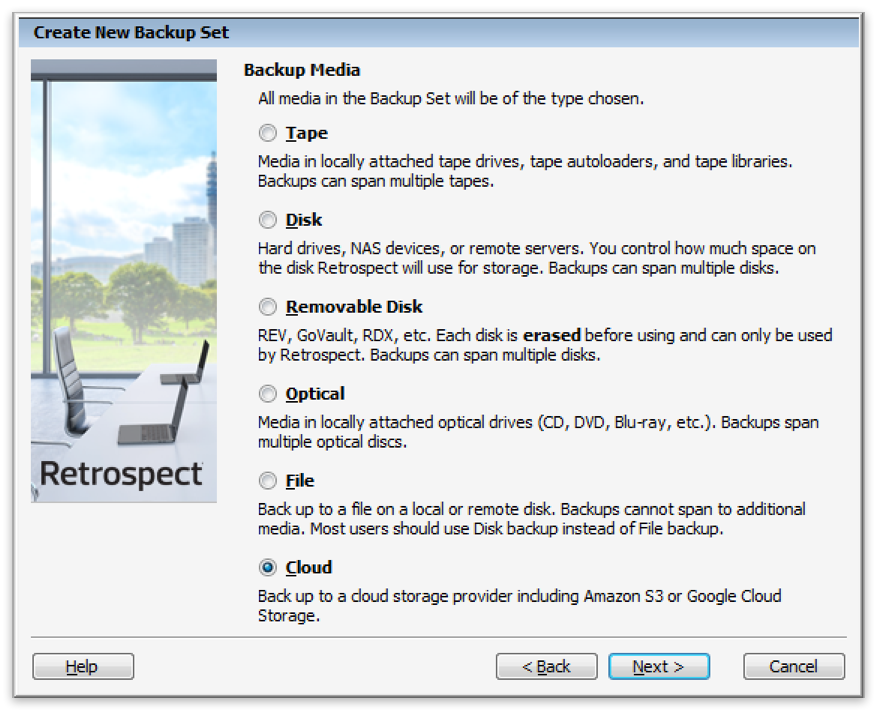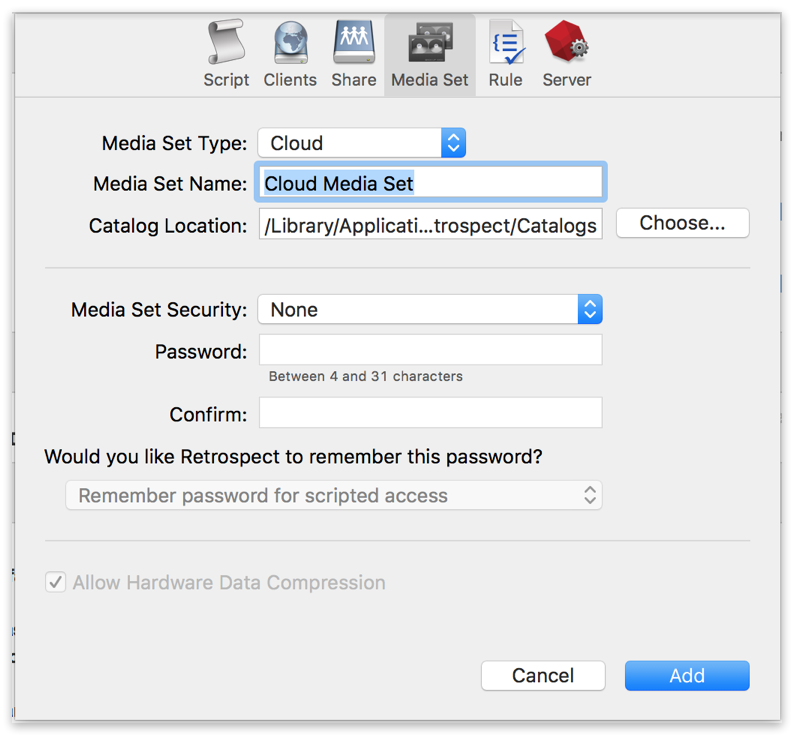 Next you'll need to enter your cloud storage credentials.
Diversi fornitori di cloud storage offrono diverse opzioni. Retrospect consente ai clienti di attivare o disattivare la crittografia SSL (HTTP o HTTPS) e impostare il massimo utilizzo di memoria, fino a 8TB per utente del cloud. Quando il backup del cloud lo utilizza, richiederà l'autorizzazione per creare un nuovo membro da 8 TB, fino a 100 TB per set di backup cloud.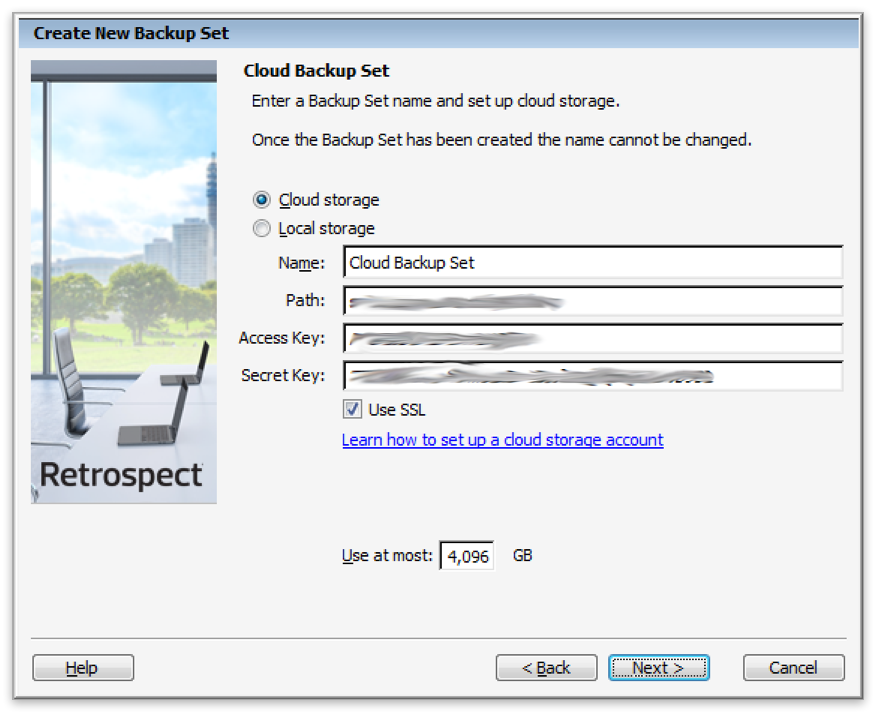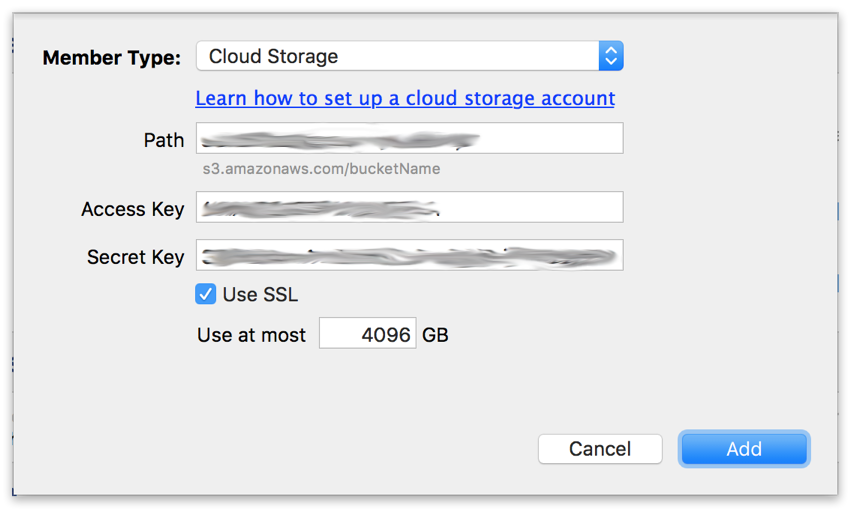 ---
Utilizzare il Cloud Storage
L'utilizzo del cloud storage è semplice. Dopo aver creato un set di cloud, crea un nuovo script o aggiungilo a uno già esistente e fai clic su "Esegui". Il backup inizierà con i contenuti del set che devono essere caricati nella posizione di archiviazione su cloud. Puoi seguire lo stato di avanzamento dell'esecuzione/attività.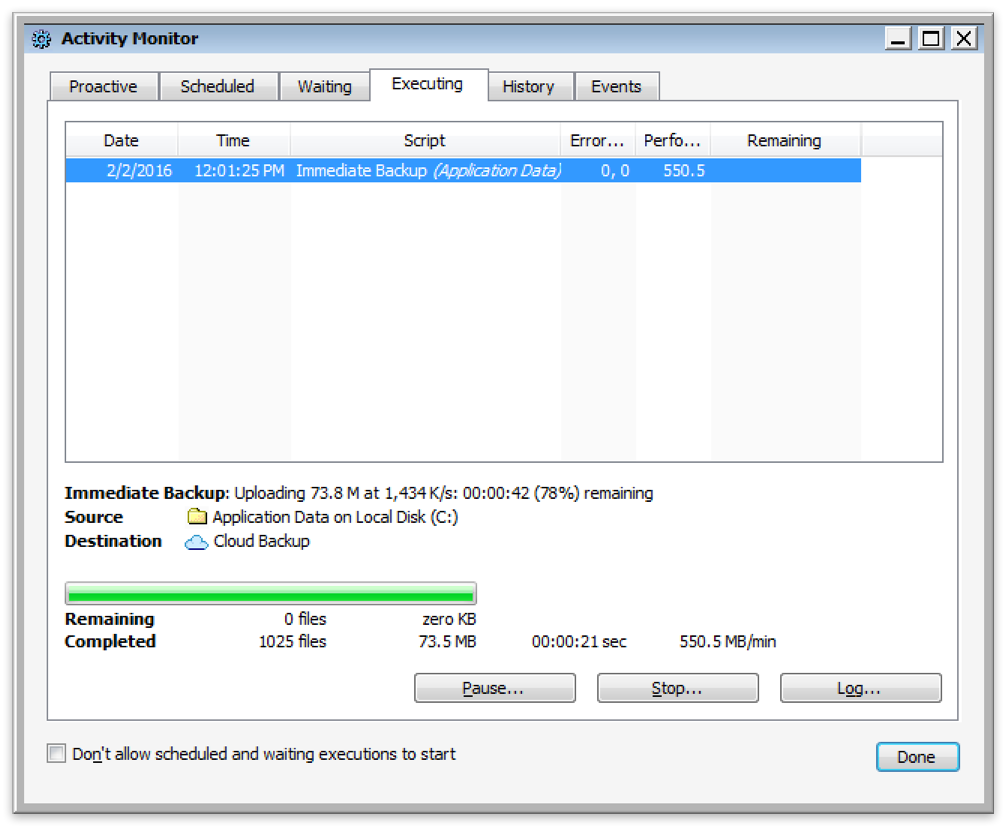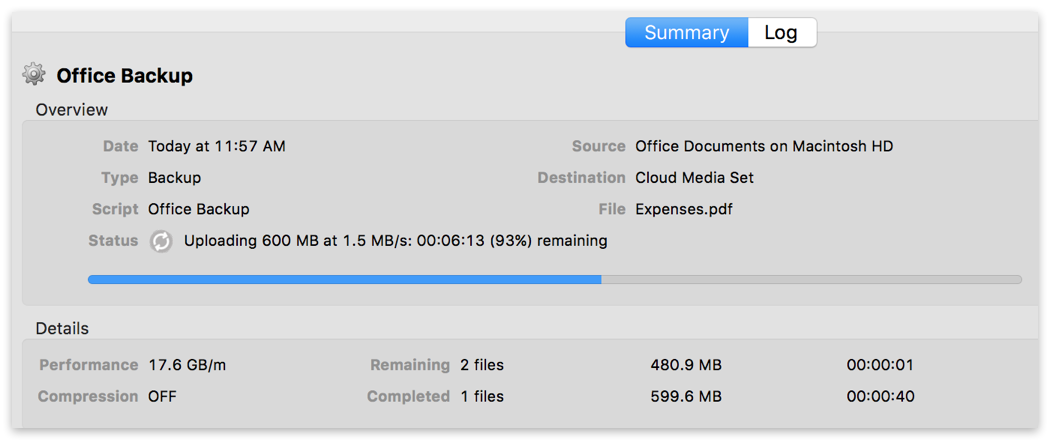 ---
Limitare la larghezza di banda del cloud
La limitazione per il backup e il ripristino su cloud è disponibile nelle Preferenze.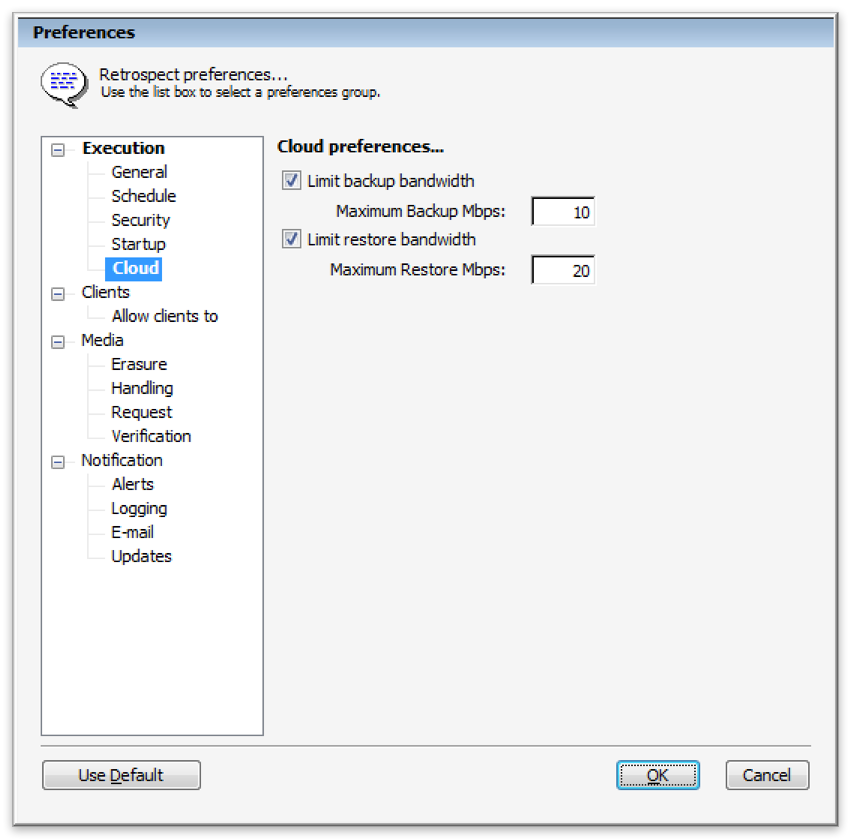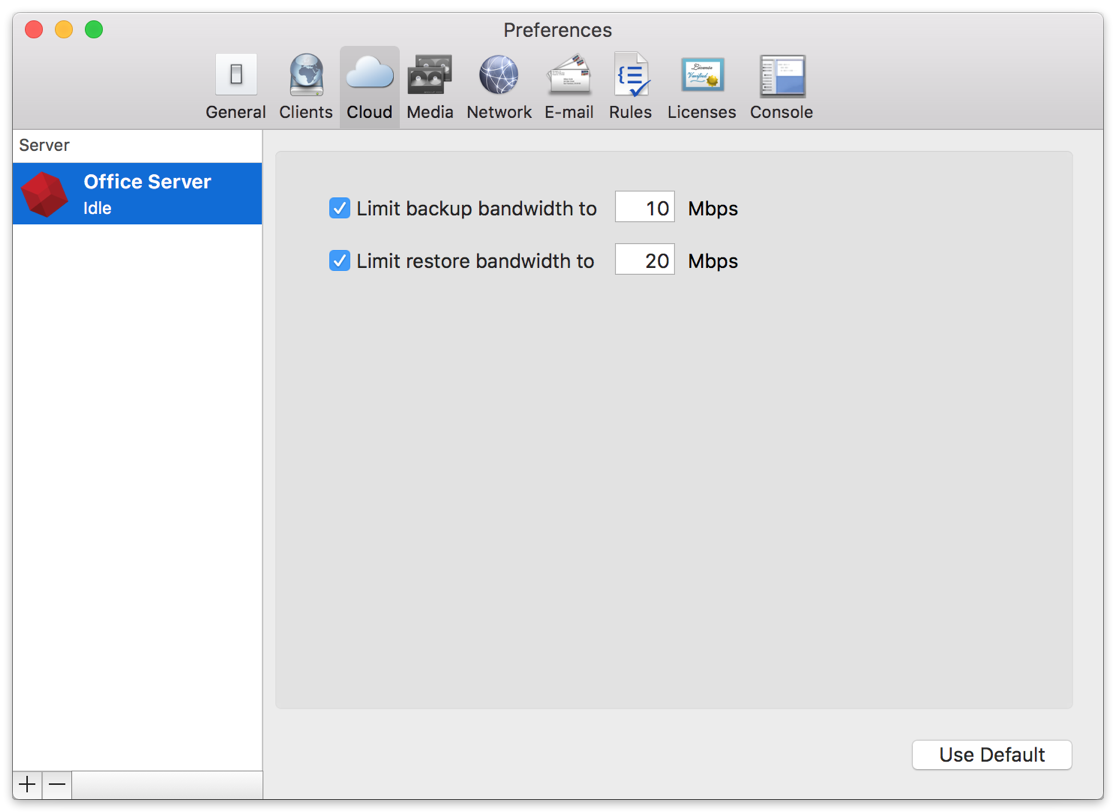 ---
Consigli per i backup su cloud
Strumento di misurazione della larghezza di banda – Misura la larghezza di banda in upload e download con questo strumento gratuito: Speedtest.net.

Disattivare la verifica di backup – La verifica scaricherà tutti i dati che carichi. Ulteriori informazioni sul perché è consigliabile disattivarla per i backup cloud sono consultabili su Backup su Cloud - Best practice per la protezione dei dati con il Cloud Storage.

Dunkel Cloud Storage - Banda di upload verificata – 20 Mbps

Dunkel Cloud Storage - Banda di download verificata – 110 Mbps
---
Last Update: 16 Apr 2016